Content Marketing
Content marketing is any marketing that involves the creation and sharing of media and publishing content in order to acquire and retain customers. (According to wikipedia)
But what does this actually mean and how does it differ from advertising?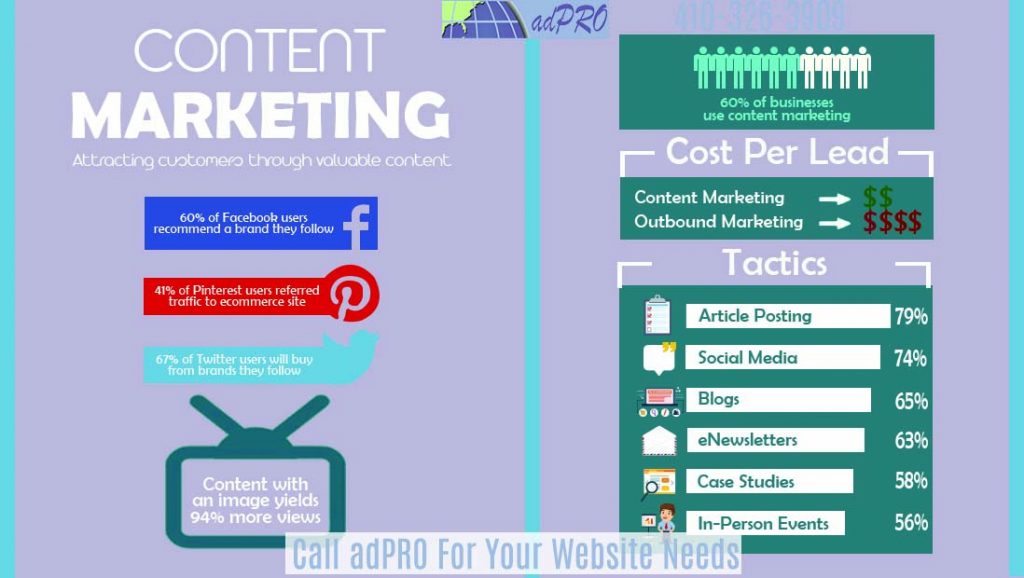 In advertising you share the features and benefits of your company with  potential customers  hoping what you have is something they want. When using content marketing you use various forms of media to give the client something you know they will be interested in driving them to your website to get more of it. The information is relevant, useful and valuable.
Another form of content marketing is the  use of contests, and surveys to get viewers to your website.
Social media is the perfect venue to be the catalyst for your campaign. Such campaigns begin with sharing on social media which drives clients to your website to read more. This offers a psychological shift from feeling bothered by an ad about your company to being grateful that you posted.  Content marketing makes you the trusted professional. It's a much better role in the funnel where the ultimate goal is to have the client buy from your company.
Examples of content marketing:
Contests
Surveys
Infographics
Sharing Images
How to articles
Recipies
Learning Videos
Games
Blogging
We are located and available for web design, and search engine optimization in Southern MD. 
County: Calvert County  Located near: Prince Frederick, California    MD
only a short drive from : Baltimore MD,Washington DC and Northern VA. 
Counties Close By:  Charles County, St. Mary's County, Anne Arundel , Prince George's & Montgomery County

443-532-6467
Don't let our physical location stop you from calling us, we can build a website for any company in the US.  Call us for all your advertising needs