Here are some resources and tools that will make life in business easier
Marketing Lessons By A Psychopath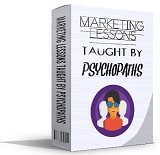 About 1 out of 100 people are psychopaths. Odds are you know at least one, yet you might not realize it. Remember, most of them are not killers as the media might portray them.
Click to downloadBut they can be incredibly charming and persuasive. Some psychopaths can find a person's weak spot in minutes,
manipulate that person using that knowledge, and actually make their target very happy and thankful to have been manipulated.
Download now:
Marketing-Lessons-Taught-By-Psychopaths
---
http://www.youcanbook.me/
YouCanBook.me

Customer bookings straight into your calendar. !
YouCanBook.me is booking software that integrates with your Google or iCloud Calendar.
Get a personalized scheduling page so your customers can book you online.  You set the times you are available and let your clients choose the one right for them.  With the free for life account you get :
Take payments for your bookings
Works on all timezones, in all languages
FREE!!   Check out YouCanBook.me
---
http://www.watchthatpage.com/
Watch That page
Does just what it sounds like. WatchThatPage is a service that enables you to automatically collect new information from your favorite pages on the Internet. Even more good news... it's
FREE!!   Check out WatchThatPage.com
---
Dropbox.com



Dropbox offers free storage and online file sharing.  This is helpful when files are too large to email. You can easily share photos and videos with others using this free service.
---
FREE Scanning Tool

See how your business looks in directories and listings across the internet.  These listings play a part in your Search engine optimization, traffic to your website, and customers in your store. TRY IT NOW>>
---
Snag.gy
This tool is great for sharing information on the web or for annotating and explaining something you want show a little more detail for.

It's so simple to use.
a.Capture your screen by pressing Command+Shift+Control+3.
b.use snaggy's simple editor to crop and annotate your image.
c. you can also paste selections from your favorite image editor.
d. paste local files and images from websites into snaggy.
CHECK IT OUT>>>
---
Trello.com

Trello is a collaboration tool that organizes your projects into boards. In one glance, Trello tells you what's being worked on, who's working on what, and where something is in a process.  If you've built canban boards on white boards, post it's or index cards this is the tool for you.  AND IT'S FREE!     TRY TRELLO>>>
---
Asana.com
From simple to-do lists, to complex projects and workflows, Asana can handle any kind of work. Organize your work and conversations in Asana.  This tool also promotes team productivity.    START ASANA NOW>>>

---
 Google Timer

Do you get completely ready for a webinar or an appointment? Now you have a few minutes left so you decide to start a small project. The next thing you know you forgot to watch the time and now you're late?  Well, here's a great solution.  Just google, google timer and it appears at the top of the search page.  Just set it and the alarm will let you know when it's time to go.  It's perfect for having a laundry or oven in the same room as you.  There's plenty of applications and it's FREE!!
We are located and available for web design, and search engine optimization in Southern MD. 
County: Calvert County  Located near: Prince Frederick, California    MD
only a short drive from : Baltimore MD,Washington DC and Northern VA. 
Counties Close By:  Charles County, St. Mary's County, Anne Arundel , Prince George's & Montgomery County


443-532-6467
Don't let our physical location stop you from calling us, we can build a website for any company in the US.  Call us for all your advertising needs