adPRO will place your message in front of your target market with outstanding brochures and collateral designs to impress your buyers. This will strengthen your brand and connect you with your market.
Partial List of Printed Graphic Design Collateral Materials Available: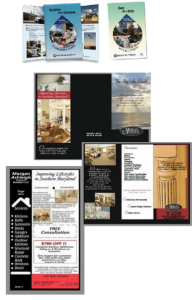 Logo Design  (View our logo gallery)
Tri fold brochures- (Design Services- Print ready PDF)
Quarterly Newsletter Designed for Printing (press ready PDF)
Flyers / One Sheet- (Design press ready PDF)
Postcards (Design press ready PDF)
Flash Flip Book
Home Video Tour
Business Cards and Brochures
A new brochure can be used in a variety of ways:  It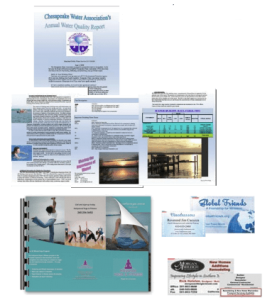 can then be turned into a
flash flip brochure and placed online. Flip books have been proven to build brand loyalty because they are interactive. We can also place a copy as a pdf online for others to download and print out.
Make a big impact with interior graphic design tailor-made to impress and engage your audience.
Trade Show Display Consultations, Branding Materials and Promotional Pieces 

Trade show displays and marketing plans need to keep up with a society that is constantly changing in order to get attention and maximize profits. When a company fails to keep up, they fall behind because their trade show booth appears boring and it doesn't create an excitement around their products and services.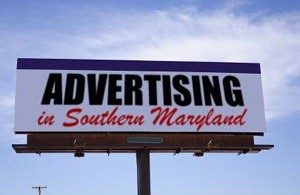 This means that everything needs to be right from the first moment - there is no room for mistakes. Staying with the same marketing strategy year after year does save money and it is easier, but your business will be unable to achieve the expansion it needs to increase profits.
OutDoor Advertising
Billboards, Bus Sides, Bus Stop Shelters
If you need a SUCCESSFUL, COMPETITIVE edge, you need to call adPRO today
410-326-3909
If you need a SUCCESSFUL, COMPETITIVE edge,
you need to call adPRO today
Related Tags and Search Terms for this page:
Related Tags: advertising-southern maryland, advertising and marketing agency, advertising in southern maryland, southern maryland advertising,
website design, business consulting, virtual tours, logo design and development, graphic design, brochures, corporate branding,
television media buing, radio commercials and production, video production, Calvert county, St. Mary's county, Charles county,
Solomons MD, Lusby MD, Prince Frederick Maryland, Maryland, advertising in maryland
We are located and available for web design, and search engine optimization in Southern MD. 
County: Calvert County  Located near: Prince Frederick, California    MD
only a short drive from : Baltimore MD,Washington DC and Northern VA. 
Counties Close By:  Charles County, St. Mary's County, Anne Arundel , Prince George's & Montgomery County

443-532-6467
Don't let our physical location stop you from calling us, we can build a website for any company in the US.  Call us for all your advertising needs