How social media can affect your career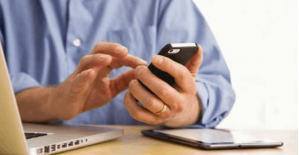 It's important to realize social media can either positively or negatively affect your employment prospects depending on what you share.
Social media has become an integral part of modern society. Millions of people around the world use social media to connect with one another. It's probably not something you've thought about or talked to your children about, but this valuable tool also can be a detriment, particularly to men and women seeking employment.
What a person says or does on social media can come back to haunt them with regard to the impression they create with prospective employers. Questionable antics and comments may reflect negatively on a person without him or her even realizing it. According to a study by Reppler, a social media monitoring service, 91 percent of employers use social media channels such as Twitter, Facebook, and LinkedIn to screen prospective employees.
Someone may post something thinking it's funny, but taken out of context by someone that it's apprised of the whole story may take the "joke" the wrong way.  Also, friends may relate to and understand the language used in a post but a professional may take the style of conversation as immature, as related to a professional position.
Many people are completely unaware how others view them through their social media profiles and usage, but social media profiles give away more information about a person's character and personality than many people would ever imagine. Even seemingly innocent remarks and observations can be misconstrued. Use of profanity or offering commentary on controversial subjects may be a person's right. However, such comments may not sit well with prospective employers.
Some may think the solution is not to have profiles on the popular social media sites. But avoiding social media entirely can send the wrong message to prospective employers. It may suggest that you are not a person who is current with the latest trends in technology and may give employers the impression that you are not adept at keeping up with the changing times.
Even the simple click of the like button can mean multiple things.  A friend posts please pray for me … I just found out my son is a martian.  One person may click the like button to show support for the mom while others may click because they support Martians.  (Well, you get the idea.  I'm careful not to post or like controversial material so it's difficult to post an example.)
The key is finding the right balance with social media. The following are a few tips to ensure your social media usage does not do more harm than good.
· Do not post or tweet information that should be kept private. If you would not tell intimate secrets to another person, especially an employer, do not convey these details to your group of "friends."
· Recognize that it's not always your comments that can affect perceptions of you. The friends you choose to accept and socialize with via social media can impact how others view you. If friends are prone to vulgarity and off-color commentary, employers may surmise that this type of behavior is acceptable to you. Screen friends and block those who do not meet your standards.
· Know that security features on social media applications change frequently. It's important to know just how private your information may be. For example, if you are tagged in another person's photo, people outside of your friends' list may be able to see that image. You have to police your sites and lock down the information as you see fit, only posting what is appropriate for the general public.
· Do not complain about a job or boss publicly. Even if your boss is not on your list of friends, he or she may still learn about your comments through gossip. While verbal complaints with others may not be accurately tracked back to you, text is hard evidence to discredit. Even in the court system this has been viewed as insubordination so forget that wrongful termination suit.
· Use social media as a networking tool to find other like-minded individuals in the same fields. Join industry-based groups and organizations so that you can share your ideas. Further expanding your reach through blogs and websites can also help your job hunt.
It used to be said you have two ears and one mouth to listen twice as much as you speak.  With regards to social media a similar adage can be used.  You have two eyes and one voice to view twice as much as you share.
Social media is here to stay, making many details of people's lives more public, so exercise caution with social media so your career is not negatively affected.
We are located and available for web design, and search engine optimization in Southern MD. 
County: Calvert County  Located near: Prince Frederick, California    MD
only a short drive from : Baltimore MD,Washington DC and Northern VA. 
Counties Close By:  Charles County, St. Mary's County, Anne Arundel , Prince George's & Montgomery County


443-532-6467
Don't let our physical location stop you from calling us, we can build a website for any company in the US.  Call us for all your advertising needs