SIMMONS HEATING AND AIR 
THANKS THE COMMUNITY
Simmons Heating and Air in The News.
FOR IMMEDIATE RELEASE: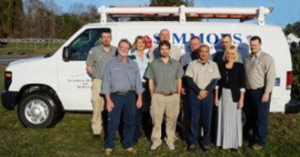 Local Business Owner Discovers Southern Maryland Is Full of Kindness.
Hollywood, Maryland  – May 11th, 2014 – Simmons Heating and Air Conditioning, located in Hollywood, MD has issued heartfelt thanks for all the kind and caring well-wishes they received following  owner Frank Simmons recent health scare.
"We want to thank everyone for their concern. We are certainly blessed to live and work in such a wonderful and caring community. Frank is recovery very quickly, and hopes to return to work soon," said office manager, Jessica Heinrich.
In the meantime, it's "business as usual" at Simmons Heating and Air Conditioning with a full staff of highly-trained technicians and office personnel ready to handle any installation or service call. During Frank's recovery, the rest of his team reaffirmed their commitment to uphold Simmons Heating and Air Conditioning's impeccable professional standards.
Serving the Southern Maryland area since 1987, Simmons Heating and Air Conditioning has established a sterling reputation for its highly trained HVAC and geothermal servicemen, along with the most technically advanced product lines, on-time delivery, and the very best customer service in the business.
Whether you have an A/C unit that is not functioning properly, or wish to upgrade to a newer, more energy –efficient model, the experts at Simmons can provide all the information you need to make an informed decision, including product options and free estimates. If you are interested in the latest in "green energy" technology, you'll be pleased to learn that Simmons has been installing geothermal energy systems since 1998.
Along with A/C service and installation, Simmons can provide:
• Repair services and installation on gas, electric, oil, hot water
• Boilers and Geo thermal.
• Zoning systems
• IAQ (Indoor Air Quality) and humidification
Another specialty of Simmons Heating and Air Conditioning is the installation of a Generac home backup Generator. With hurricane season fast approaching, now is the time to inquire about installing a whole house generator. With Generac, you will never again spend a single day in discomfort, waiting for the electric company to finally arrive in your neighborhood after a storm.
For more information, please visit our website, www.simmonshvacrepair.com or you can reach us at our Hollywood, MD office at by calling: 301-373-4780.
We are located and available for web design, and search engine optimization in Southern MD. 
County: Calvert County  Located near: Prince Frederick, California    MD
only a short drive from : Baltimore MD,Washington DC and Northern VA. 
Counties Close By:  Charles County, St. Mary's County, Anne Arundel , Prince George's & Montgomery County


443-532-6467
Don't let our physical location stop you from calling us, we can build a website for any company in the US.  Call us for all your advertising needs